Mar 7, 2018 @ 04:18 PM — by Neil L. Starr, DDS
Chipped teeth can leave your smile looking lackluster and jagged. In addition to having a negative impact on your smile, fractured teeth can compromise your overall oral health, making you less resilient to problems like decay and further breakage. At our Washington, D.C., dental practice, Dr. Neil L. Starr offers treatment for chipped teeth, including dental bonding, porcelain veneers, and crowns. Read on to find out how these treatments can restore your oral health and bring beauty back to your smile.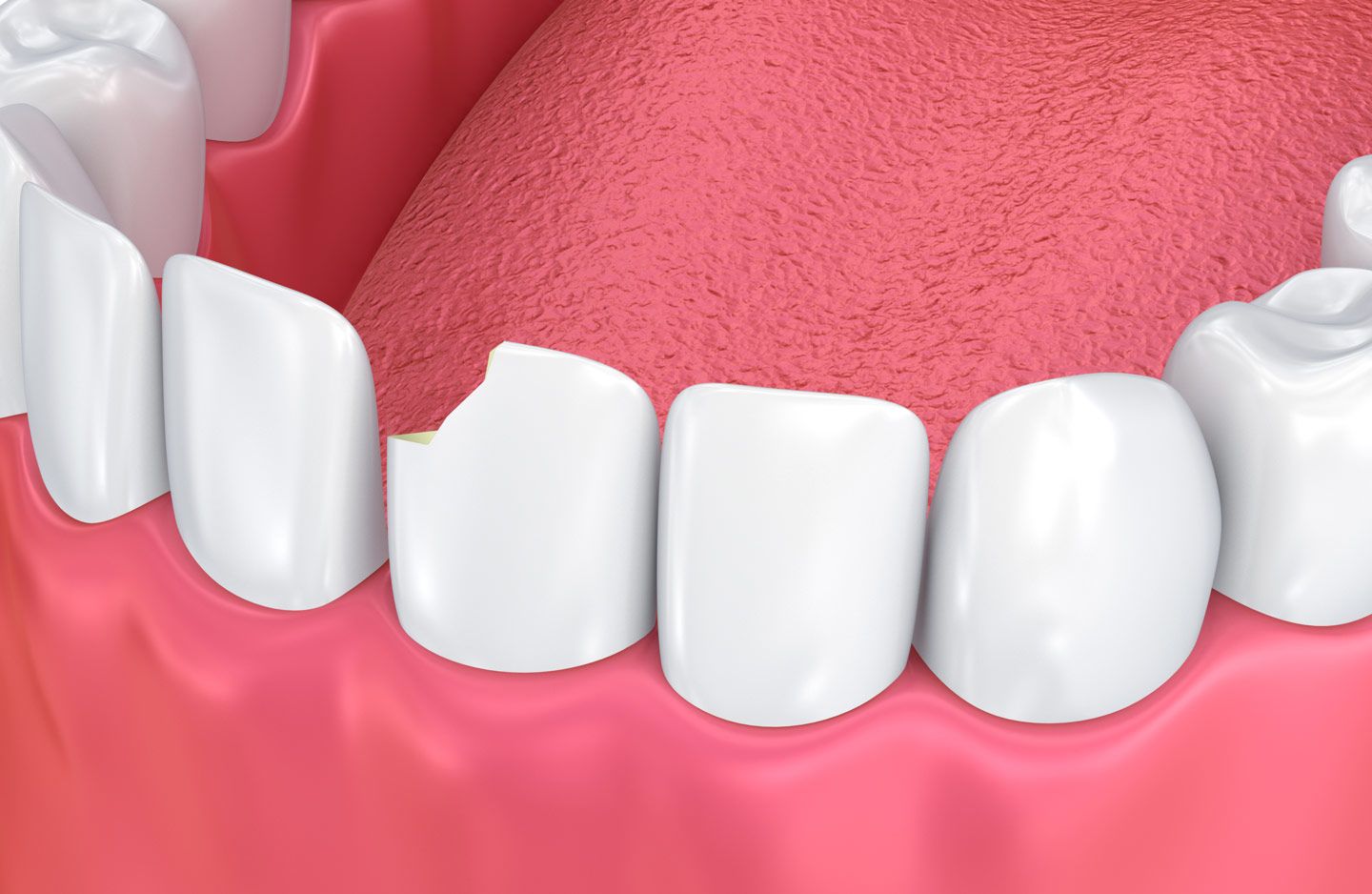 What Causes Chipped Teeth?
Before discussing the different treatments available for repairing chipped teeth, we will first explore what causes these fractures in the first place. As you might imagine, trauma can play a significant role in the development of chips and other forms of dental damage. For example, a slip or fall can result in hitting your teeth on the pavement or another hard surface. Or, perhaps you were playing contact sports without a mouth guard. These are common reasons why a tooth might chip. However, this type of damage can also occur when the tooth structure has been weakened. For example, if your teeth are decayed, or if the enamel has worn thin, they will be more susceptible to this type of breakage.
Dental Bonding
The most conservative treatment for chipped teeth is a process known as dental bonding. This involves the application of a composite resin material to the problematic area. (Composite resin is the same material used when placing tooth-colored fillings.) Once the resin has been applied to the tooth, it will be light-cured and hardened. Next. Dr. Starr will carefully shape and contour the material and polish your tooth to a lifelike shine. Dental bonding can be completed in less than an hour at our office, and the results can last upwards of seven years.
Porcelain Veneers
Chipped teeth can also be repaired with porcelain veneers. This option works well if there are multiple chips or aesthetic concerns present. Custom-crafted in a dental lab, veneers are super-thin tooth-colored restorations that are bonded to the front surfaces of the teeth. In order to place them properly, the teeth will need to be buffed. Therefore, small amounts of enamel must be removed. This treatment is more extensive compared to dental bonding and typically requires two office visits. On average, porcelain veneers last up to 20 years with proper care and maintenance.
Dental Crowns
If a chip or fracture is larger, a dental crown may be necessary. Aesthetic and functional, crowns fit over the entire tooth surface. On average, dental crowns last about 15 years. However, with advances in dental materials, it is not uncommon for this type of restoration to last 25 to 30 years.
Root Canal Therapy
What if the chip in your tooth is severe? For breaks and fractures that extend into the deep structures of the tooth, root canal therapy may be necessary. During this procedure, the pulp, nerves, and tissues are removed from inside the tooth, and the root canals are scrubbed clean with disinfectant. Once the surfaces are cleaned, a specialized dental material will be used to fill the root canals. The tooth will then be sealed to prevent further contamination. For most chipped teeth, root canal treatment will not be necessary. In most cases, this problem can be addressed with dental bonding or veneers.
Learn More about Treatment for Chipped Teeth
If you have a chipped tooth, Dr. Starr can help you explore your treatment options during a consultation at our office. To learn more, contact us online or call our office at (202) 293-7177.