Jun 14, 2018 @ 01:05 PM — by Neil L. Starr, DDS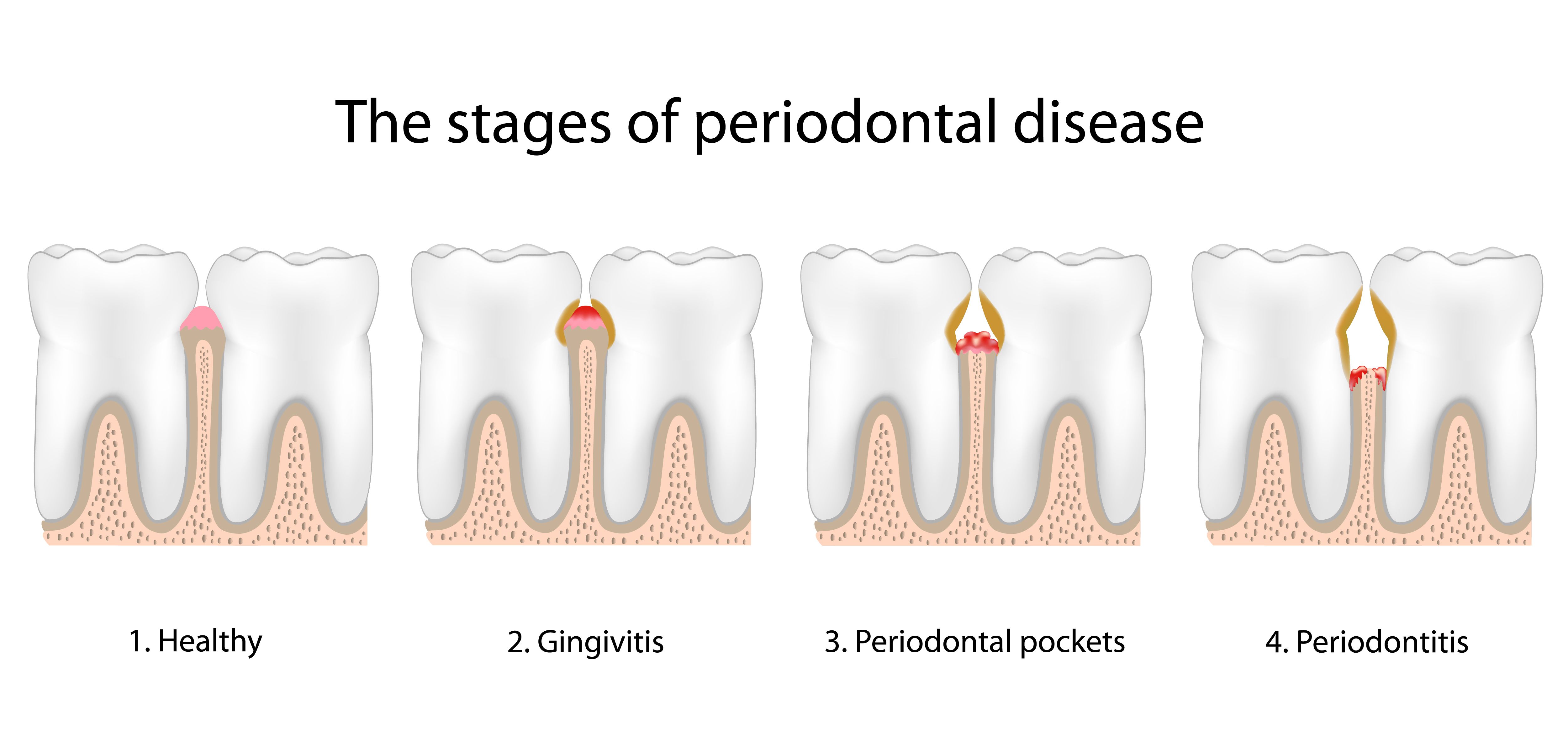 Periodontal disease is a type of bacterial infection that affects your gum tissue. If it isn't treated early, it can affect your teeth and other structures of your mouth. Thankfully our Washington, DC restorative dentistry center offer advanced gum disease treatment, able to remedy the different stages of the condition.
Let's take a moment to cover each stage of gum disease, the symptoms involved, and what treatments are available. We will also offer some dental care tips that will help prevent periodontal disease.
Gingivitis
The earliest stage of gum disease, gingivitis is the initial infection of the gum tissue. If gingivitis is not treated, it can lead to worse stages of gum disease and more severe kinds of dental health problems.
Symptoms of Gingivitis
The symptoms of gingivitis include:
Puffy or swollen gums
Red or dark gum tissue
Bleeding gums
Tender gums
Irritation of the gums
Bad breath
Treatments for Gingivitis
Thankfully gingivitis can be treated with relative ease. Antiseptic rinses and antibacterial toothpaste may be used to help fight the bacterial infection. Dentists will help deep clean pockets of plaque and and tartar from around the gumline to protect teeth from future infections. This process is known as root planing and scaling, and it's essential for good preventive dental care.
Periodontitis
Periodontitis is the next stage of gum disease, and a worsening of the inflammation experienced in gingivitis. It's important that people with periodontitis get dental treatment to save their teeth and gums from serious health issues.
Symptoms of Periodontitis
The symptoms of periodontitis include:
Severe swelling of the gum tissue
Gum recession
Tooth sensitivity
Sore and painful gums
Major gum discoloration
Loose teeth
Changes in tooth alignment
Treatments for Periodontitis
To treat periodontitis, dentists will rely on antiseptic rinses and antibacterial toothpaste to control the bacteria levels in the mouth. Antibiotics may also be prescribed in order to fight bacteria within the body.
To help address gum recession, gum grafting may be performed. This involves the use of donor soft tissue or artificial gum grafts to rebuild a gumline that has been reduced/altered by gum recession.
Advanced Periodontitis
Advanced periodontitis is the most severe stage of gum disease. At this point, the inflammation is pervasive and affects the gums, teeth, and other structures of the mouth.
Symptoms of Advanced Periodontitis
The symptoms of advanced periodontitis include:
Extreme pain of the teeth and gums
Severe swelling of the gums
Changes in tooth spacing
Tooth loss
Treatments for Advanced Periodontitis
Treating periodontitis will require a major full mouth reconstruction that brings the bacterial infection of the gums under control while also addressing the damage to other structures of the mouth. The process will be involved, require multiple treatment sessions, and requires a skilled dentist to pull off effectively.
Tips for Preventing Gum Disease
To prevent gum disease from developing, consider the following dental health tips:
Brush your teeth at least twice a day (ideally after every meal)
Floss your teeth at least once a night (ideally after every meal)
Avoid smoking and the use of tobacco products
Eat a healthy and well balanced diet
Drink water throughout the day to hydrate
Visit your dentist twice a year for regular checkups
Learn More About Periodontal Care
To learn more about improving your dental health and fighting the effects of gum disease, be sure to contact an experienced cosmetic and restorative dentist. Dr. Neil Starr is here to provide enhanced dental care and offer advice on lasting dental wellness.