Enhancing Smiles with Porcelain Veneers
---
Chipped, stained, misaligned, or inconsistently spaced teeth can make a patient feel self-conscious about the appearance of his or her smile. With the help of Neil L. Starr, D.D.S., P.C., minor dental imperfections can be easily concealed to create a beautiful smile. Porcelain veneers created at Dr. Starr's Washington, D.C. practice are a very popular cosmetic dentistry solution that can give a smile symmetry and beauty. Dr. Starr is one of a small number of Fellow / members of the American Academy of Esthetic Dentistry recognized for offering extremely natural-looking veneers to achieve an excellent look and fit based on the patient's lip form and facial form. To learn more about how Dr. Starr's expertise in creating and placing porcelain veneers improves patients' smiles, contact our office today.
What Are Porcelain Veneers?
Veneers are thin porcelain shells that are bonded to the front surface of teeth to cover minor esthetic imperfections and create symmetry in a smile. Porcelain veneers are a great cosmetic dental solution for patients who wish to address:
Small or worn-down teeth
Minor dental misalignment
Chipped or cracked teeth
Asymmetrical or misshapen teeth
Teeth with intrinsic stains (staining on the inner structure of the tooth)
We take ample time to determine if patients are candidates for porcelain veneers. If there are any additional dental health issues present, they must be addressed before moving forward with veneers or any other cosmetic dentistry treatment.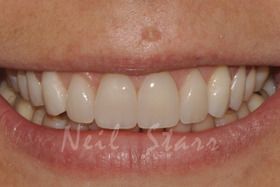 View our work and real patient results
Why Our Veneers are Exceptional
Our detailed mockups, onsite laboratory, excellent ceramist and state-of-the-art technology ensure that patients receive veneers that provide long-term satisfaction. One indicator of Dr. Starr's success would be to look at how pristinely healthy the gum tissues look around his patients' veneers.
View our work and real patient results
Dr. Starr's patients can expect that their veneers will look great and fit comfortably even before the veneers are permanently placed. As part of every initial diagnostic evaluation, mockups of veneers are meticulously created for patients to review. Based on patient feedback, Dr. Starr can make modifications to ensure the permanent veneers fit properly and achieve the patient's esthetic goals.
Dr Starr's practice houses its own lab, allowing him to closely collaborate with the master ceramist to create veneers to exacting specifications. Committed to incorporating the best in dental technology into his practice, Dr. Starr also has an onsite CAD/CAM (Computer-aided Design and Computer-aided Manufacturing) dental unit. With the lab and CAD/CAM technology at his disposal, Dr. Starr's patients can enjoy veneers that are customized exactly for them.
Placing Veneers
Porcelain veneers typically require at least two appointments. During the first, a small portion of natural tooth structure is removed. A local anesthetic is provided to ensure patient comfort during this step. In most cases, the goal is to preserve natural tooth structure as much as possible. Once the tooth is prepared, impressions are taken, which will be used to create a wax pattern of the final veneer. Once the dimensions are finalized, the veneer is created in our onsite lab. During the final appointment, the veneers are attached to the teeth using a strong dental adhesive.
Schedule an Appointment Today
To learn more about how veneers can enhance a smile as a stand-alone procedure or as part of a smile makeover, contact our practice today. Dr. Starr's decades of experience consistently provides patients with the dazzling smiles they want and deserve.